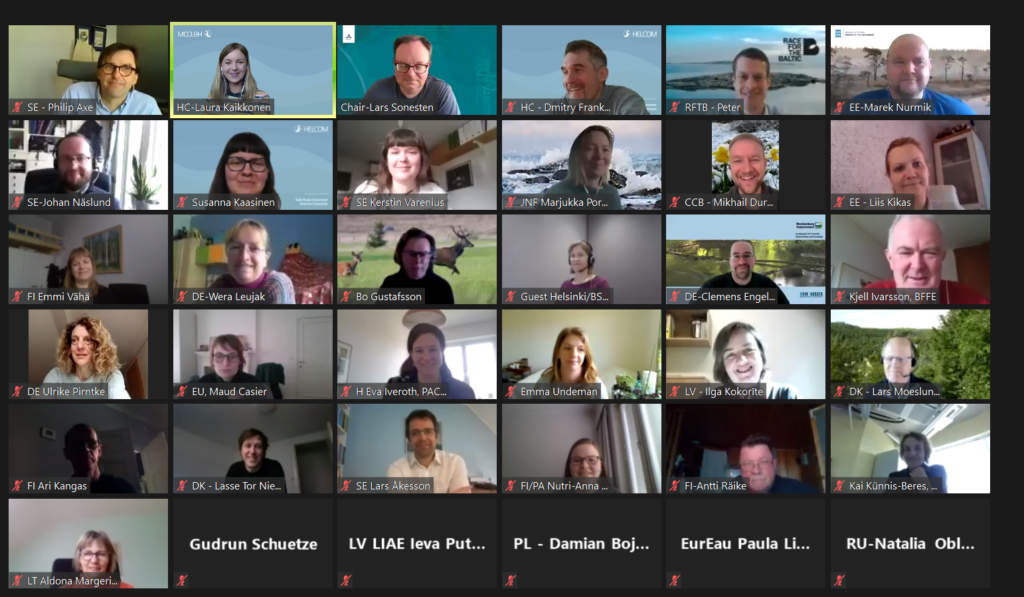 Marine litter and underwater noise topped the agenda of PRESSURE 14-2021, the meeting of the HELCOM Pressure Working Group dealing with pressures on the Baltic Sea, and which was held online from 13 to 16 April 2021.
A revised full version of the HELCOM Regional Action Plan on Marine Litter (RAP ML) was presented at PRESSURE 14-2021. Based on the initial plan that was adopted in 2015 and incorporating the lessons learnt from all previous implementation efforts, the updated version is due to be adopted in October 2021 during the HELCOM Ministerial Meeting 2021, alongside the new Baltic Sea Action Plan (BSAP).
PRESSURE 14-2021 further recognized the successful implementation of some of the actions under the current RAP ML, notably on including HELCOM guidelines on marine litter in national and local waste prevention and waste management plans, as well as sharing best practices on waste management.
Other completed actions under the RAP ML include the development of best practices on the disposal of scrapped pleasure boats and handling of expanded polystyrene, the identification of key practical aspects of prevention of litter, and the retrieval and the management of ghost nets, among others.
On underwater noise, a factor affecting species that are reliant on hearing, such as harbour porpoises, seals and some species of fish, wide support was expressed for the draft Regional Action Plan on Underwater Noise that is currently under development. The plan is due to be adopted with the BSAP later this year, along with an accompanying HELCOM Recommendation.
PRESSURE 14-2021 further developed recommendations on the regional policy document on hazardous substances that provides guidance on the upcoming HELCOM framework for hazardous substances. The framework is being developed to provide a more efficient and future-proof response to threats to the marine environment stemming from hazardous substances, especially from new chemicals.
During the meeting, the topics of physical damage to the seafloor, the next HELCOM holistic assessment (HOLAS III), the update of the Baltic Sea Action Plan, eutrophication and issues pertaining to nutrients such as the Nutrient Recycling Strategy and the HELCOM framework on internal nutrient load management were also discussed.
The meeting was attended by all HELCOM Contracting Parties and observers from Coalition Clean Baltic (CCB), Baltic Farmers' Forum on Environment (BFFE), the Federation of European Aquaculture Producers (FEAP), European Federation of National Associations of Water and Wastewater Services (EurEau), Race for the Baltic, and John Nurminen Foundation, as well as by invited guest from Baltic Nest Institute (BNI) and the City of Helsinki.