ESTONIAN CHAIR 2014-16

CHAIR OF THE HELSINKI COMMISSION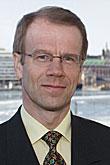 1 July 2014 – 30 June 2016
Deputy Secretary General of the Ministry of the Environment
Estonia
CURRICULUM VITAE
Name: Harry Liiv
Date of birth: 10 September 1950
Place of birth: Tallinn, Estonia
Nationality: Estonian
Employment record:
January, 2000 – present
Deputy Secretary General. Ministry of the Environment, Estonia.
Duties: Responsible for managing and coordination of water management, marine environmental issues and waste management at governmental level. Participation at EU and other international meetings, particularly the ones concerning water and waste issues; Chairman of HELCOM and head of delegation to UN ECE CEP as well as to the EUWater Directors level. Member of the Bureau for the Convention on the Protection and Use of Transboundary Water Courses and International Lakes; Chairman of the UNECE EPR Expert Group.
August, 1992 – January, 2000
Director General of Environmental Department. Ministry of the Environment, Estonia
Responsible for managing and coordination of Water Management, air control and waste management problems at the government level. Multilateral cooperation with different countries and IFI's. Participation at international meetings, particularly concerning water and waste problems, for example Head of the Estonian delegation to UN/ECE Committee on Environmental Protection, to HELCOM and to NATO/CCMS. In 1994 drafted UN Guidelines on Integrated Environmental Management (under UNECE contract).
August, 1991 – August, 1992
Managing Director. AS Geoestonia
Responsible for management of technical and business projects. Besides of topographical surveys and engineering measurements, involvement in several environmental projects on river management, etc.
September 1984 – August, 1991
Chief Engineer of Hydraulic Structure Department. Estonian Land Reclamation and Water Management Design Office
Responsible of appropriate solutions of environmental means in our projects according to standards and technology, with scientific focus on water management problems in rural areas.
March, 1982 – August, 1984
Supervision and design of irrigation system. Ministry of Agriculture and Agrarian Reform of Yemen
A senior engineer in Yemen, responsible for building spate irrigation systems at Ras-Al-.Wadi and Al-Bustan Sites, with areas of 210 ha and 600 ha.
September 1976 – March, 1982
Chief Engineer of Amelioration Department
At the post of chief engineer the duties included EIA, supervision of land reclamation and irrigation projects and evaluation of designs.
Higher education:
1969–1974 Estonian Agricultural Academy
Diploma: Hydro-engineer
Main course of study: Hydrology, environmental protection, engineering
1976–1981 St. Petersburg Polytechnic Institute, Russia
Diploma: PhD in Eng
Main course of study: Hydraulic structures, economy
Other education:
1967–1969 Tallinn Secondary School No 20, Estonia
1994 International Law Institute, Washington, USA
Language skills:
​Estonian, English, Russian, Finnish