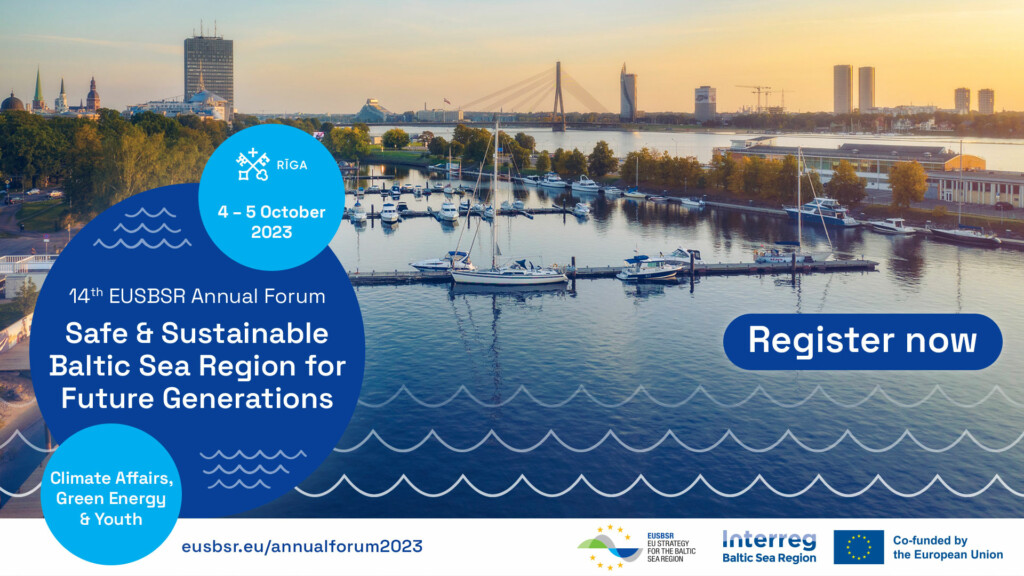 On 4–5 October this year, Riga will be organising the 14th Annual Forum of the EU Strategy for the Baltic Sea Region (EUSBSR), titled 'Safe and Sustainable Baltic Sea Region for Future Generations'.
HELCOM at EUSBSR
On 4 October 2023, 15:00-16:30 EEST, HELCOM will co-host a workshop with Pomorskie Region and the Council of the Baltic Sea States (CBSS) on Submerged munitions in the Baltic Sea – environmental, security and other challenges.
Venue: The Small Guild (address: Amatu iela 5, Riga, Latvia)
Moderator: Ms. Monika Pochron-Frankowska, Deputy Director for International and Interregional Cooperation, Pomorskie Region
Speakers:
Mr. Jacek Bełdowski, Institute of Oceanology, Polish Academy of Sciences, Marine Geotoxicology Laboratory
Mr. Rudiger Strempel, The Baltic Marine Environment Protection Commission (HELCOM)
Ambassador Grzegorz Poznański, Director General of the Council of the Baltic Sea States (CBSS) or/and Andriy Martynenko, PA Secure
Mr. Alexander Bach, Ministry of Energy Transition, Climate Protection, Environment, and Nature
Mr. Christos Economou, Directorate-General for Maritime Affairs and Fisheries (DG MARE)
Description:  The munitions dumped in the Baltic Sea have a significant impact on both the security and environment of the region. The munitions not only can be accidentally detonated by the maritime industry, fishing boats, shipping vessels, or even recreational divers, but also the chemicals can leach into the water, contaminating the marine ecosystem and harming marine life. The panel highlights the urgent need for action to further locate and remove the dumped munitions in the sea to ensure the safety and sustainability of the Baltic Sea for generations to come.
On 5 October 2023, HELCOM will be showcasing its work at the expo area of the Networking Village. Come and say hello!
Links
Workshop 8: Submerged munitions in the Baltic Sea – environmental, security and other challenges
Contact
Eeva Nyyssönen
Communications Secretary
eeva.nyyssonen@helcom.fi
+358406473996