Regional Action Plan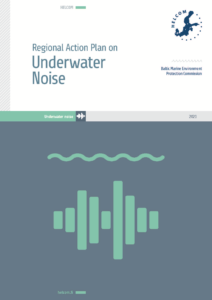 Latest developments
In 2021, the HELCOM Regional Action Plan on Underwater Noise was adopted as HELCOM Recommendation 42-43/1, becoming the first action plan on noise in the European seas. The implementation of the plan and additional actions on noise contained in the 2021 Baltic Sea Action Plan (BSAP) will enable the achievement of the ecological and managerial objectives on underwater noise contained in the 2021 BSAP: "no or minimal harm to marine life from man-made noise", and "minimize noise to levels that do not adversely affect marine life". The Action Plan contains both regional and national actions that focus on the reduction of pressures and impacts from underwater noise sources of different types.
The regional implementation of the Action Plan will now be led within HELCOM by the Pressure group, who will also coordinate it with relevant subsidiary bodies to enable their substantial contribution (Terms of Reference of the Pressure group as adopted by HOD 46-2014). Countries have already taken the lead to implement some actions of the Action Plan, and in an attempt to initiate its implementation in the most efficient way possible, a short list of actions to be addressed on the first place has been identified.
Following the requirements of the Action Plan the progress of work is addressed on a regularly basis.
Documents