Maritime Spatial Planning Data
Geographical information is a central component and prerequisite of maritime spatial planning (MSP). HELCOM Data and Map service contains MSP relevant datasets on human activities and marine use for easy downloading or quick overlaying purposes.
HELCOM Map & Data​ Service serves the needs of maritime spatial planning by
giving the existing MSP data more visibility,
visualizing transboundary continuity of sea uses,
highlighting gaps in available MSP data,
being available as a depository of Baltic MSP project GIS data.
The HELCOM Data and Map service is open access GIS server specialised in providing best available regional spatial data free of charge. HELCOM also provides direct access to all HELCOM geospatial datasets either by ArcGIS rest interface or INSPIRE compliant OGC WMS Standard and WFS can be implemented for selected datasets.
The datasets compiled in the service are originated from several HELCOM activities such as annual reporting within expert groups, periodic thematic assessments and projects.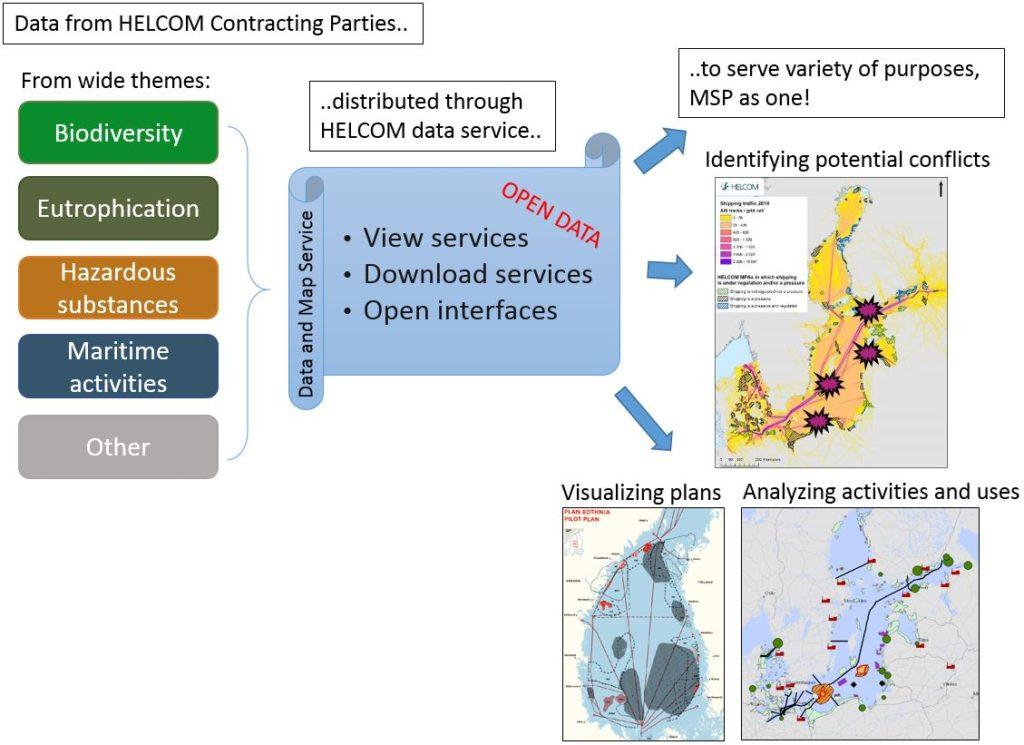 MSP relevant data from various themes is distributed freely through HELCOM Data and Map Service.
HELCOM GIS is served by trained and experienced GIS and data management staff at HELCOM Secretariat (both permanent and project contracts), working with a full suite of professional ESRI ArcGIS licences.
The HELCOM Secretariat is involved in the project Baltic LINes as a Work Package co-leader related to data and MSP. The aim is to build the first ever Baltic Sea Region MSP data infrastructure allowing the access to decentralized datasets using OGC services.
Please contact Joni Kaitaranta (joni.kaitaranta@helcom.fi) for further details on​ the system.