Red List of Biotopes and Habitats
A Red List threat assessment was made for 209 biotopes of which 59 were red-listed. Of the assessed biotopes, 73% were classified LC and are therefore currently not seen to be at risk of collapse.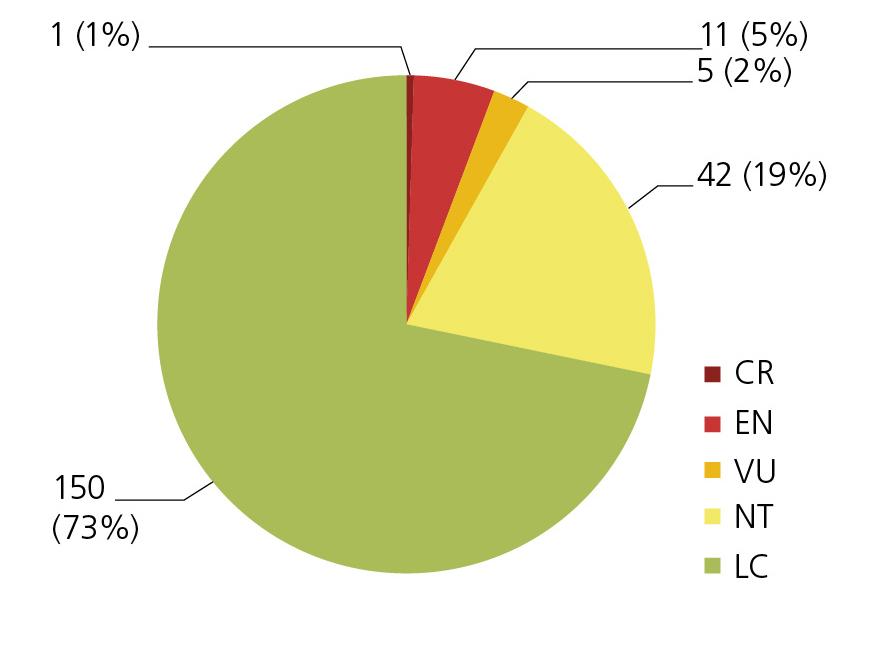 Only one biotope was categorized in the most severe threat category CR, the biotope delineated by aphotic muddy bottoms dominated by the ocean quahog (Arctica islandica) mussel. The Red List assessment results indicate that many of the threatened biotopes occur in the deep areas of the Baltic Sea. The reason for most of these biotopes becoming threatened is eutrophication, indirectly causing oxygen depletion in the deep areas. Many of the deep biotopes occurring on soft sediments have declined due to destructive fishing methods such as bottom trawling. Furthermore, many of the red-listed biotopes occur in the southwestern Baltic Sea due to the salinity restricted distribution of the species that are characteristic of the biotope.
Data availability is relatively poor for many biotopes and long time series are generally lacking. Therefore the threat assessment is supported by expert judgement. The confidence in the threat assessment is described as High (H), Medium (M) or Low (L).
The assessment methodology is described in detail in the BSEP138 Red List of Baltic Sea underwater biotopes, habitats and biotope complexes.
| | | | | |
| --- | --- | --- | --- | --- |
| Biotope code | Biotope/Habitat name | Threat category | Confidence of threat assessment | Criterion for assessment |
| AB.H3L3 | Baltic aphotic muddy sediment dominated by ocean quahog (Arctica islandica) | CR | M | A2 |
| AA.M1Q2 | Baltic photic mixed substrate dominated by stable aggregations of unattachedFucus spp. (dwarf form) | EN | L | A1 |
| AA.H1Q2 | Baltic photic mud dominated by stable aggregations of unattached Fucus spp. (dwarf form) | EN | L | A1 |
| AA.I1Q2 | Baltic photic coarse sediment dominated by stable aggregations of unattachedFucus spp. (dwarf form) | EN | L | A1 |
| AA.J1Q2 | Baltic photic sand dominated by stable aggregations of unattached Fucus spp. (dwarf form) | EN | L | A1 |
| AA.D | Baltic photic maerl beds (unattached particles of coralline red algae) | EN | M | B1+2a(ii) |
| AB.D | Baltic aphotic maerl beds (unattached particles of coralline red algae) | EN | L | B1+2a(ii) |
| AB.B1E4 | Baltic aphotic hard clay dominated by Astarte spp. | EN | M | B2c(ii) |
| AB.H3L5 | Baltic aphotic muddy sediment dominated by Astarte spp. | EN | M | A1 |
| AB.H2T1 | Baltic aphotic muddy sediment characterized by sea-pens | EN | M | A1 |
| AB.H1I2 | Baltic aphotic muddy sediment dominated by Haploops spp. | EN | M | A1 |
| AE.O5 | Baltic Sea aphotic pelagic below halocline oxic | EN | L | A3 |
| AA.G | Baltic photic peat bottom | VU | M | B2b |
| AB.J3L3 | Baltic aphotic sand dominated by ocean quahog (Arctica islandica) | VU | M | A1 |
| AC | Baltic Sea seasonal ice | VU | L | A1+2a |
| AA.E1F1 | Baltic photic shell gravel dominated by vase tunicate (Ciona intestinalis) | VU | L | B1a(ii) |
| AB.E1F1 | Baltic aphotic shell gravel dominated by vase tunicate (Ciona intestinalis) | VU | L | B1a(ii) |
| AA.E3Y | Baltic photic shell gravel characterized by mixed infaunal macrocommunity in fine sand-like shell fragments | NT | L | B1a(ii) |
| AB.E3Y | Baltic aphotic shell gravel characterized by mixed infaunal macrocommunity in fine sand-like shell fragments | NT | L | B1a(ii) |
| AA.E1C4 | Baltic photic shell gravel dominated by kelp | NT | L | B1a(ii) |
| AA.A1H2 | Baltic photic rock and boulders dominated by erect moss animals (Flustra foliacea) | NT | L | A1 |
| AB.A1H2 | Baltic aphotic rock and boulders dominated by erect moss animals (Flustra foliacea) | NT | L | A1 |
| AA.M1H2 | Baltic photic mixed hard and soft substrates dominated by erect moss animals (Flustra foliacea) | NT | L | A1 |
| AB.M1H2 | Baltic aphotic mixed hard and soft substrates dominated by erect moss animals (Flustra foliacea) | NT | L | A1 |
| AA.H1B4 | Baltic photic muddy sediment dominated by Charales | NT | M | A1 |
| AA.I1B4 | Baltic photic coarse sediment dominated by Charales | NT | L | A1 |
| AA.J1B4 | Baltic photic sand dominated by Charales | NT | L | A1 |
| AA.M1B4 | Baltic photic mixed substrate dominated by Charales | NT | L | A1 |
| AA.H1B7 | Baltic photic muddy sediment dominated by common eelgrass (Zostera marina) | NT | M | A1 |
| AA.I1B7 | Baltic photic coarse sediment dominated by common eelgrass (Zostera marina) | NT | M | A1 |
| AA.J1B7 | Baltic photic sand dominated by common eelgrass (Zostera marina) | NT | M | A1 |
| AA.M1B7 | Baltic photic mixed substrate dominated by common eelgrass (Zostera marina) | NT | M | A1 |
| AA.H1A2 | Baltic photic muddy sediment dominated by sedges (Cyperaceae) | NT | M | A1 |
| AA.H1B5 | Baltic photic muddy sediment dominated by spiny naiad (Najas marina) | NT | M | A1 |
| AA.J1B5 | Baltic photic sand dominated by spiny naiad (Najas marina) | NT | L | A1 |
| AA.H3L3 | Baltic photic muddy sediment dominated by ocean quahog (Arctica islandica) | NT | M | A1 |
| AA.J3L3 | Baltic photic sand dominated by ocean quahog (Arctica islandica) | NT | M | A1 |
| AA.H3L6 | Baltic photic muddy sediment dominated by Unionidae | NT | L | A1 |
| AA.I3L10 | Baltic photic coarse sediment dominated by multiple infaunal bivalve species: Macoma calcarea, Mya truncata, Astartespp., Spisula spp. | NT | L | A1 |
| AB.I3L10 | Baltic aphotic coarse sediment dominated by multiple infaunal bivalve species: Macoma calcarea, Mya truncata, Astartespp., Spisula spp. | NT | L | A1 |
| AA.J3L10 | Baltic photic sand dominated by multiple infaunal bivalve species: Macoma calcarea, Mya truncata, Astarte spp., Spisulaspp. | NT | L | A1 |
| AB.J3L10 | Baltic aphotic sand dominated by multiple infaunal bivalve species: Macoma calcarea, Mya truncata, Astarte spp., Spisulaspp. | NT | L | A1 |
| AA.I3L11 | Baltic photic coarse sediment dominated by multiple infaunal polychaete species includingOphelia spp. (disregarding present bivalves) | NT | L | A1 |
| AB.I3L11 | Baltic aphotic coarse sediment dominated by multiple infaunal polychaet species includingOphelia spp. (disregarding present bivalves) | NT | L | A1 |
| AA.J3L11 | Baltic photic sand dominated by multiple infaunal polychaete species including Ophelia spp. and Travisia forbesii(disregarding present bivalves) | NT | L | A1 |
| AB.J3L11 | Baltic aphotic sand dominated by multiple infaunal polychaete species including Ophelia spp. and Travisia forbesii(disregarding present bivalves) | NT | L | A1 |
| AB.A1F1 | Baltic aphotic rock and boulders dominated by sea squirts (Ascidiacea) | NT | L | A1 |
| AB.M1F1 | Baltic aphotic mixed hard and soft substrates dominated by sea squirts (Ascidiacea) | NT | L | A1 |
| AB.A1G2 | Baltic aphotic rock and boulders dominated by sea anemons (Actiniarida) | NT | L | A1 |
| AB.M1G2 | Baltic aphotic mixed hard and soft substrates dominated by sea anemons (Actiniarida) | NT | L | A1 |
| AB.A1G3 | Baltic aphotic rock and boulders dominated stone corals (Scleractinida) | NT | L | A1 |
| AB.M1G3 | Baltic aphotic mixed hard and soft substrates dominated stone corals (Scleractinida) | NT | L | A1 |
| AB.A1G4 | Baltic aphotic rock and boulders dominated by soft corals (Alcyonacea) | NT | L | A1 |
| AB.M1G4 | Baltic aphotic mixed hard and soft substrates dominated by soft corals (Alcyonacea) | NT | L | A1 |
| AB.A1J | Baltic aphotic rock and boulders dominated by sponges (Porifera) | NT | L | A1 |
| AB.M1J | Baltic aphotic mixed hard and soft substrates dominated by sponges (Porifera) | NT | L | A1 |
| AB.H3N1 | Baltic aphotic muddy sediment dominated by Monoporeia affinis and/or Pontoporeia femorata | NT | M | A1 |
| AB.H4U1 | Baltic aphotic muddy sediment dominated by meiofauna | NT | L | A1 |
| AB.J3L7 | Baltic aphotic sand dominated by striped venus (Chamelea gallina) | NT | L | A1 |