Regional Action Plan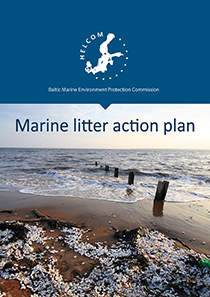 ​Latest Developments
The 48th Meeting of HELCOM Heads of Delegation endorsed the concrete regional actions and voluntary national actions to reduce the input and presence of marine litter in the Baltic Sea (Annex 2 of the Outcome of HOD 48-2015​) as part of the Action Plan previously adopted as HELCOM Recommendation 36/1 (Annex 2 of the Outcome of HELCOM 36-2015​) by the 36th HELCOM Annual Meeting.
See also: paragraphs 2.1 – 2.9 in 36th HELCOM Meeting Outcome​.
The regional implementation of the Action Plan will now be led within HELCOM by the Pressure group, who will also coordinate it with relevant subsidiary bodies to enable their substantial contribution (Terms of Reference of the Pressure group as adopted by HOD 46-2014).

Background
The process to develop the regional action plan for marine litter, as agreed on in the 2013 HELCOM Ministerial Meeting, started in 2014. The plan aims to significantly reduce marine litter by 2025, compared to 2015, and to prevent harm to the coastal and marine environment.
Following decisions taken during the Annual Meeting in 2014 (HELCOM 35-2014), two regional expert workshops and one meeting at a governmental level were conducted enabling the development of successively improved drafts of the Action Plan.
The regional action plan for marine litter should enable concrete measures for prevention and reduction of marine litter from its main sources; develop common indicators and associated targets related to quantities, composition, sources and pathways of marine litter; and to identify the socio-economic and biological impacts of marine litter.
Documents