Red List of Fish and Lamprey Species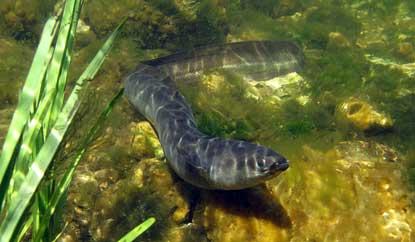 Among the fish and lamprey species, 14 were evaluated as threatened (Critically Endangered, Endangered or Vulnerable), nine as Near Threatened, eight as Data Deficient and two were regarded Regionally Extinct.
The two Regionally Extinct species in the HELCOM area are the American Atlantic sturgeon (Acipenser oxyrinchus) and the common skate (Dipturus batis).
Four species were categorised as Critically Endangered, the Baltic Sea populations of the grayling (Thymallus thymallus), the eel (Anguilla anguilla) and two sharks, the porbeagle (Lamna nasus) and the spurdog (Squalus acanthias), all of which have experienced dramatic population declines in the HELCOM area. Three species were assessed Endangered: the Atlantic wolf-fish (Anarhichas lupus), the whitefish (Coregonus maraena) and the ling (Molva molva), and seven as Vulnerable: sea lamprey (Petromyzon marinus), the tope shark (Galeorhinus galeus), the thornback ray (Raja clavata), the cod (Gadus morhua), the whiting (Merlangius merlangus), the salmon (Salmo salar) and the trout (Salmo trutta).
For all except one species, the sea lamprey, the threatened categories were assigned on the basis of estimated past population declines or, in some cases, past declines combined with projected future declines. For the sea lamprey the category assignment was based on the small size and continuously declining population. Additionally, nine species were evaluated Near Threatened and eight Data Deficient.

Fishing, either as targeted commercial or recreational fishing or as bycatch, are mentioned among the most important reasons for becoming threatened for most of the red-listed fish species. For anadromous fish species, the main threats are migration barriers due to construction of rivers. Eutrophication causing the loss of habitats, both directly due to filamentous algae covering habitats and indirectly due to oxygen deficiency, is a serious threat to several fish species.
Species Information Sheets