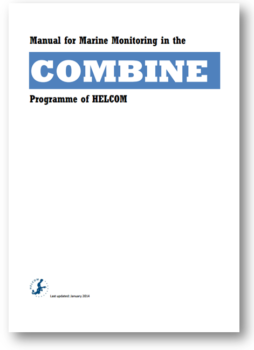 Download the complete  COMBINE Manual  in pdf format.
This manual is directed to all performing monitoring in the COMBINE Programme. The manual defines the contributions made by all Contracting Parties and regulates all methods used.
The document will be revised when there is a need for changes in the programme content or for updating of technical annexes.
The official version of the manual for marine monitoring in the COMBINE programme of HELCOM is always available electronically via the HELCOM home page
The manual was last updated on 31 July 2017.
​Part A General aspects ​
​
​Part B General guidelines on QUALITY ASSURANCE for monitoring in the Baltic Sea ​ ​ ​ ​ ​ ​ ​ ​ ​ ​ ​ ​ ​ ​ ​ ​ ​ ​ ​ ​ ​ ​ ​ ​ ​ ​
​Annex B1 Principle components of a quality manual
​Annex B2 Validation of established analaytical methods
​Annex B3 Quality audit
Annex B4 Standard Operating Procedures
Annex B5 General remarks on sampling
Annex B6 Examples of reference materials for internal quality control
Annex B7 Units and conversion
​Annex B8 Technical note on the determination of
hydrographic parameters ​ ​ ​
Appendix 1​ Technical note on the determination of salinity and temperature of seawater​
Appendix 2 Technical note on the determination of dissolved oxygen in seawater
​​Appendix 3 Recommended equations for the calculation of solubility and saturation of dissolved oxygen in sea water​​
Appendix 4 Technical note on the determination of
hydrogen sulfide in seawater (Replaced by new Guidelines for sampling and determination of hydrogen sulphide)

​Annex B9 Technical note on the determination of nutrients
Annex B10 Chemical analysis of anoxic waters
​Annex B11 Technical note on the determination of heavy metals
and persistent organic compounds
in seawater ​
​Appendix 1​ Technical note on the determination of tracemetals (Cd, Pb, Cu, Co, Zn, Ni, Fe), including mercury, in seawater
​​Appendix 2 Technical annex on the determination of heavy metals and persistent organic compounds in seawater
​Annex B12 Technical note on the determination of heavy metals and persistent organic compounds
in biota ​ ​ ​ ​
​Appendix 1​ Technical note on biological material sampling and sample handling for the analysis of persistent organic pollutants (PAHs, PCBs and OCPs) and metallic trace elements
Appendix 2 Technical note on the determination of
polycyclic aromatic hydrocarbons in biota
​​Appendix 3 Technical note on the determination of
chlorinated biphenyls and organochlorine pesticides in biota
​​Appendix 4 Technical note on the determination of
trace metallic elements in biota
​​Appendix 5 Technical note on the determination of
total mercury in marine biota
​Annex B13 Technical note on the determination of heavy metals and persistent organic compounds
in marine sediments ​ ​
​Appendix 1​ Technical note on the determination of polycyclic aromatic hydrocarbons (PAHs)
in sediment ​
Appendix 2 Technical note on the determination of chlorinated biphenyls in sediment ​
Appendix 3 Technical note on the determination of heavy metals and persistent organic compounds in marine sediment
​Annex B14 Technical note on the measurement of pH in seawater (replaced by new Guidelines for sampling and determination of pH)
​Annex B15 Technical note on the measurement of total alkalinity in seawater ​(replaced by new Guidelines for sampling and determination of total alkalinity)
Annex B16 Technical note on co-factors analysis ​
Annex B17 Technical note on the determination of organic carbon in seawater ​ ​ ​ ​
​Part C Programme for monitoring of EUTROPHICATION
and its effects ​ ​ ​ ​ ​ ​ ​ ​ ​ ​ ​ ​ ​
​Annex C1 Tables listing sample stations
Annex C2 Hydrographic and hydrochemical variables (partly replaced by new guidelines for nutrients (nitrite, nitrate, ammonium, phosphate, total nitrogen, total phosphorus, silicate), Secchi depth, hydrogen sulfide, pH, and total alkalinity)
​​Annex C3 Sediment traps ​​Annex C4 Phytoplankton chlorophyll a ​(replaced by new Guidelines for measuring chlorophyll a) ​ ​ ​
​​Annex C5 Phytoplankton primary production ​ ​
​​Appendix 1​ Design and tests of a novel P-I incubator to be used for measuring the phytoplankton primary production in ICES monitoring studies
​​​Appendix 2 Light measurements and intercalibration of standard ICES incubators (second draft) ​​​
Appendix 3 Irradiance Differentiation and Control in the ICES incubator
​​Annex C6 Guidelines concerning phytoplankton species composition, abundance and biomass (replaced by new Guidelines for monitoring phytoplankton species composition, abundance and biomas)​​
Annex C7 Mesozooplankton (​​replaced by new Guidelines for monitoring of mesozooplankton)
Annex C8 Soft bottom macrozoobenthos
Annex C9 Guidelines for monitoring of phytobenthic plant and animal communities in the Baltic Sea ​​Annex C10 Guidelines for fish monitoring sampling methods of HELCOM ​​(replaced byGuidelines for Coastal Fish monitoring sampling)
Annex C11 Guidelines concerning bacterioplankton growth determination​​
Annex C12 Guidelines concerning bacterioplankton abundance determination ​ ​ ​ ​ ​ ​ ​
​Part D Programme for monitoring of CONTAMINANTS
and their effects