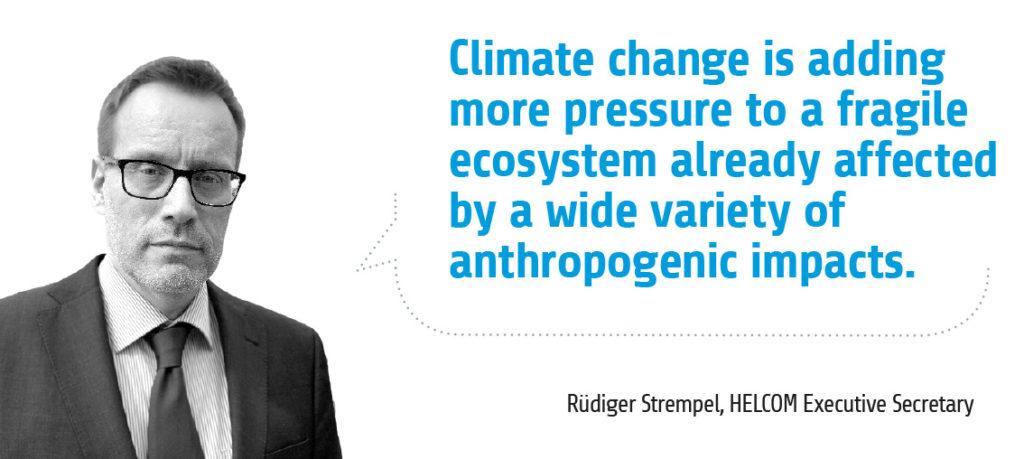 By Rüdiger Strempel, HELCOM Executive Secretary

Polaris is an impressive vessel. Built in 2016, she is the most recent addition to the sizeable fleet of ice breakers based a mere ten-minute walk away from the HELCOM Secretariat in Helsinki. But does the fact that Finland maintains a fleet of heavy-duty ships to break the sea ice in her waters mean that climate change has not reached the Baltic Sea? Unfortunately not. In fact, this region is warming faster than Earth as a whole, and the sea ice cover has decreased dramatically since the middle of the 20th century. And there is more to come. Over the next 100 years, precipitation is expected to increase, but the snow season will likely become shorter and the sea ice cover could decline even further. Other effects of climate change in the Baltic Sea could include higher air and water temperatures, lower salinity, decreased oxygen levels and shifts in habitats and species distribution.
In other words, climate change is adding more pressure to a fragile ecosystem already affected by a wide variety of anthropogenic impacts, such as eutrophication, pollution, overfishing and habitat loss. But HELCOM is working to tackle this issue. A priority of the current Finnish presidency of HELCOM, climate change has long been on the agenda of our organization. Since 2007, HELCOM Ministerial Meetings have stressed that climate change will impact on the region's marine environment and should therefore be reflected in HELCOM policies. In 2007, HELCOM published its first thematic assessment of climate change, jointly with BALTEX. More recently, in the Declaration of the Ministerial Meeting held in Brussels, Belgium in 2018, HELCOM Ministers not only reiterated their concern about the impacts of climate change but also stressed "the need for research and adaptive management to strengthen the resilience of the Baltic Sea in the face of climate change impacts". They also agreed "to increase HELCOM's preparedness to respond to climate change impacts, by taking foreseen climate change impacts into account when updating the Baltic Sea Action Plan and by exploring the needs and possibilities to further adapt HELCOM's policies and recommendations 1) in line with existing objectives of protection of the marine environment and sustainable use of marine resources, also under the changing climate, and 2) to maximise the capacity of the Baltic Sea ecosystem to contribute to mitigation of climate change through blue carbon storage."
In plain language: The Contracting Parties to HELCOM share the view that the ultimate aim of HELCOM's work on climate change should be increased resilience of the Baltic Sea system to the impacts of climate change and that a long-term, multidisciplinary approach to understanding and communicating its implications for the region's marine and coastal environment is needed. We are therefore working to establish HELCOM as a regional platform for policy-science dialogue on climate change, to provide robust, policy-relevant and research-based knowledge on the state, impacts and vulnerabilities of the Baltic Sea with respect to climate change and we are reviewing our policies with a view to promoting climate change adaptation.
While HELCOM's various Expert Groups and networks already strive to take account of climate change, HELCOM has now taken the topic to the next level by establishing a dedicated Network on Climate Change (EN-CLIME), jointly with Baltic Earth, a focal point for technical marine climate change information and expertise in the region. Working in the context of our State and Conservation Working Group and consisting of experts from both organizations, EN-CLIME cooperates closely with both other HELCOM Groups and networks and external partners. One of EN-CLIME's deliverables will be a climate change fact sheet. As a science driven exercise, the fact sheet is intended to offer policy makers a concise and easily accessible resource providing a consensus view by the region's experts regarding relevant abiotic and biotic parameters, thus helping to bridge the science-policy gap. The fact sheet will then continually be updated to reflect advances in science and understanding of climate change as it relates to our region. Based on the best available science, we will also broaden the scope of the Baltic Sea Action Plan, HELCOM's ambitious program of action for a healthier Baltic Sea, to encompass climate change when updating the plan for the post-2021 period.
Whether Polaris and her fellow icebreakers will still be needed 50 or 100 years from now is difficult to predict. But as we gain a better understanding of the dynamics and implications of climate change for the Baltic Sea, a clearer picture will emerge of what needs to be done to ensure a sustainable and liveable future for the Sea that defines our region and for the region as a whole.
This article was originally published in Open Access Government (October 2019). View the publication (article is on page 340).