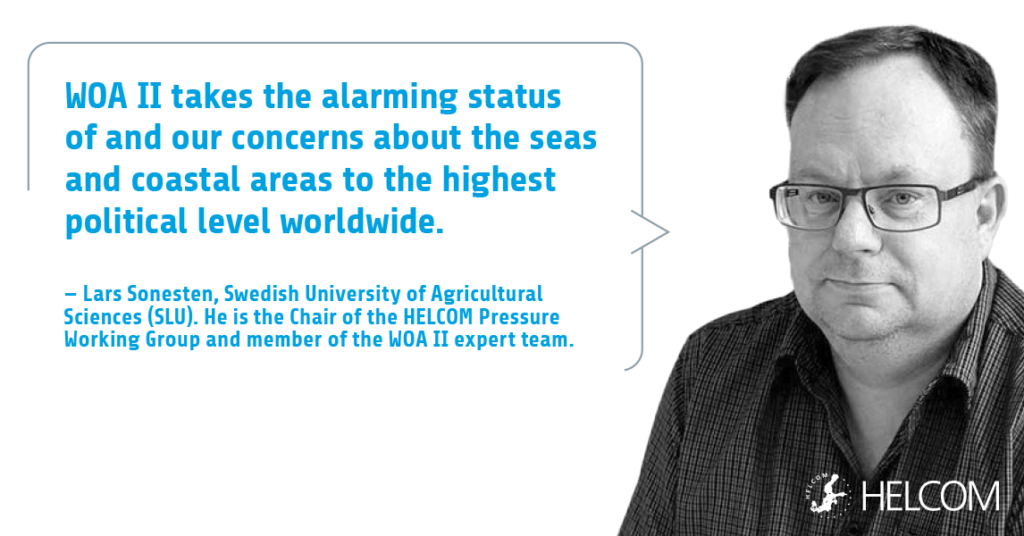 Lars Sonesten is the Head of Department of Aquatic Sciences and Assessment at the Swedish University of Agricultural Sciences (SLU). He is the Chair of the HELCOM Pressure Working Group as well as the Chair of the OSPAR INPUT Working Group. He was a member of the WOA II expert team.
What are the benefits of the WOA II for the global ocean?
Lars Sonesten: I think that the main benefit of WOA II is that it takes the alarming status of and our concerns about the seas and coastal areas to the highest political level worldwide. Hopefully, this may inspire national and regional authorities and organisations to increase their efforts to counteract the deterioration of our common seas.
What are the benefits of WOA II for the Baltic Sea region in particular?
First of all, it puts the environmental status of Baltic Sea into a global context, and makes it possible to compare with other sea areas. In addition, I think that our long experience as a regional sea convention in monitoring and joined assessing the status, as well as taking measures to combat the deterioration may serve as a good example for other sea areas.
What was your personal involvement in the WOA II process?
I was involved in writing the two chapters on inputs of nutrients and hazardous substances to the seas (chapters 10 and 11, respectively), with special responsibility on the atmospheric inputs of hazardous substances. As the chairman of HELCOM Pressure and OSPAR Input, I had an interest to share and incorporate as much relevant information as possible that is related to the Baltic Sea as well as the Northeast Atlantic.
---
About WOA II
The Second World Ocean Assessment (WOA II) assesses the state of the global ocean in the period of 2016 to 2020. Carried out by the UN's Regular Process with the support of more than 300 experts, it covers environmental, economic and social aspects about the marine environment. While the first cycle (WOA I) focused on establishing a baseline, the WOA II follow-up effort also evaluates trends should support policy development and decision-making at the national, regional and global levels. Several HELCOM experts participated in the development of the WOA II, and the results of various HELCOM assessments such as HOLAS II and PLC were also used in the report.