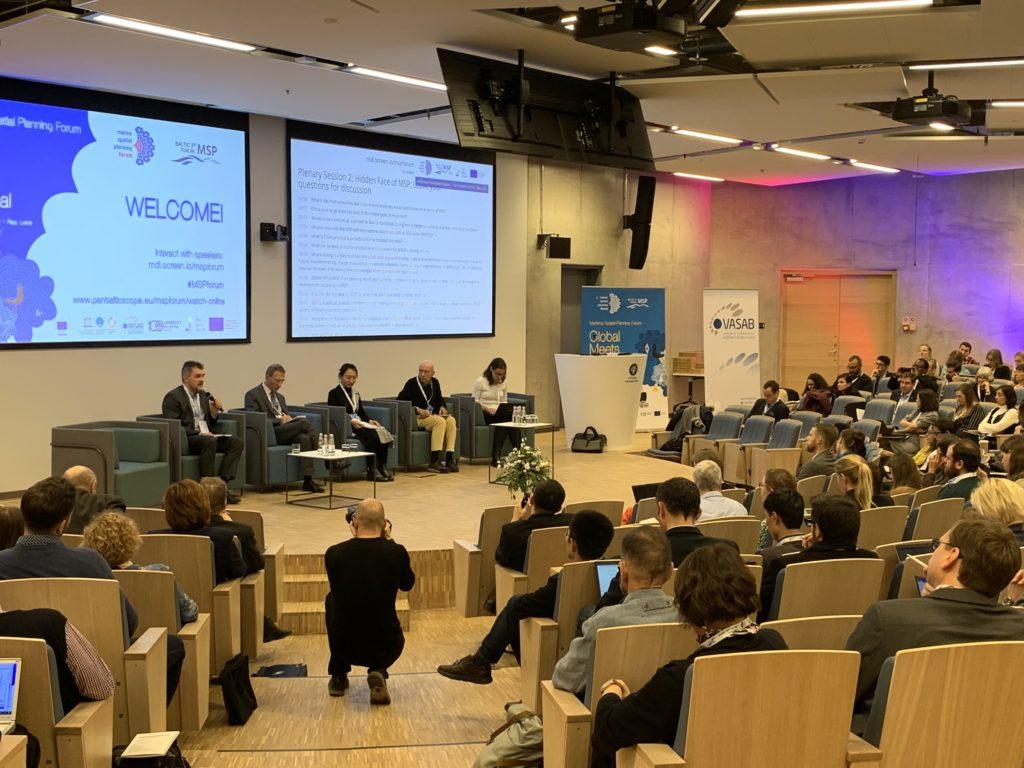 Not just one or two but three events on maritime spatial planning (MSP) were combined in the "Global meets regional" Maritime Spatial Planning Forum in Riga between 19 and 21 November, showing the importance that MSP is gaining in the Baltic Sea region.
The event that attracted 300 participants from over 40 countries was a grouping of the 4th International MSP Forum, the 3rd Baltic MSP Forum, and the final conference of the Pan Baltic Scope project. It focussed heavily on the ecosystem approach as well as transboundary planning between countries and frameworks.
"For HELCOM, maritime spatial planning is one of the tools at our disposal for achieving good environmental status of the Baltic Sea," noted Rüdiger Strempel, the Executive Secretary of HELCOM, in his recap remarks.
"By promoting the ecosystem approach, [we] add the human dimension to the ecosystem, both in terms of the benefits we derive from the sea, and regarding the pressures our activities exert on the marine environment," he said.
According to Strempel, the forum also impressively demonstrated "the broad range of disciplines and topics of relevance to and affected by MSP." Indeed, legal issues, environmental impacts, economic and social dimensions, green infrastructure, and ecosystem services all prominently featured on the forum's agenda, confirming the complexities and the multidisciplinary nature of MSP.
The forum furthermore served as the final conference of the EU-funded Pan Baltic Scope project on advancing MSP in the Baltic Sea region and where HELCOM led the work on economic and social analyses, and cumulative impacts.
In the project, HELCOM also collaborated on a data sharing activity to support regional cooperation and transboundary coherence in MSP. At the forum, HELCOM presented BASEMAPS, a web-based tool showing decentralized MSP data through open standard services.
"With BASEMAPS, planners can finally access a catalogue of transnational MSP data published by official data providers," said Joni Kaitaranta, HELCOM's data manager. The tool seeks to facilitate the development of coherent plans across the Baltic Sea region.
BASEMAPS is the result of both the Baltic LINes and Pan Baltic Scope projects, with the first focussing on input data – the data needed to produce the plans –, and the second on output data, showing national MSP plans in a harmonized way following HELCOM-VASAB guidelines on transboundary MSP output data structure in the Baltic Sea to support cross-border coherence of plans.
The forum was organized in conjunction with UNESCO's Intergovernmental Oceanographic Commission (IOC UNESCO), VASAB, Pan Baltic Scope and the European Commission's Directorate-General for Maritime Affairs and Fisheries (DG MARE).
And who said three: in a MSP-dominated week, the forum took place back to back with an EU MSP expert meeting on Monday, 18 November and the Capacity4MSP project partner meeting on Friday, 22 November – bumping up the count to an actual five MSP events in Riga.