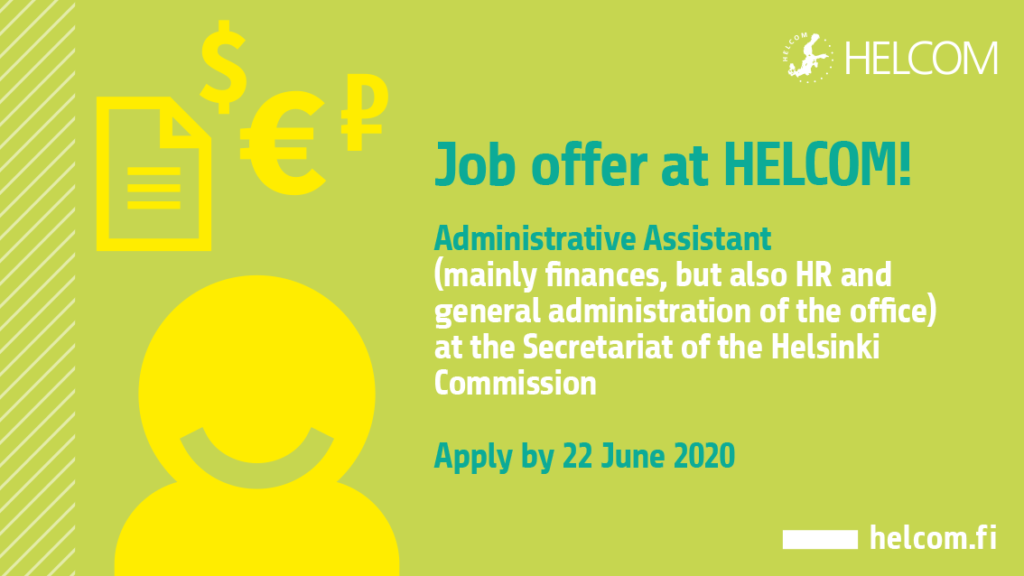 We are currently in search of an enthusiastic expert to strengthen our team at the international HELCOM Secretariat as Administrative Assistant. The position is to support the Administrative Officer in the administration of the Secretariat. While the tasks are mainly focused on finances, they also include tasks related to HR and general administration of the office.
Responsibilities
assisting in closing of accounts and preparing the financial statement;
tasks related to accounting, invoicing, reporting and follow-up;
support in budgeting;
tasks related to HR and general administration (e.g. preparing contracts, reports and applications);
support in developing the administrative tools of the Secretariat;
other administrative tasks as assigned.
Qualifications and experience
Bachelor's degree in a relevant field (e.g. business administration, public administration, economics) or corresponding education;
minimum of two years of relevant professional experience from financial and administrative tasks;
knowledge of accounting practices and systems;
ability to work independently, take responsibility and initiatives;
excellent organizational and administrative skills and proven ability to deliver to tight timelines;
excellent social and team skills;
A thorough knowledge of the English and Finnish languages as well as high competence in IT skills are essential.
Apply by end of 22 June 2020.
More details about the job offer and on how to apply can be found on our vacancy page.