A hydrobiologist by training and a scientist interested in functioning of aquatic systems, Andris Andrusaitis joined the BONUS Secretariat in 2008 and currently serves as its Acting Executive Director. His responsibilities include the oversight and leading of BONUS' strategic development. He also leads the implementation of the coordination and support action BANOS CSA "Towards the joint Baltic and North Sea research and innovation programme".
A biogeologist by training with international research experience in wide range of marine environments, Karoliina Koho joined the BONUS Secretariat in January 2019 as a project officer and is the first point of contact in the coordination of BANOS CSA.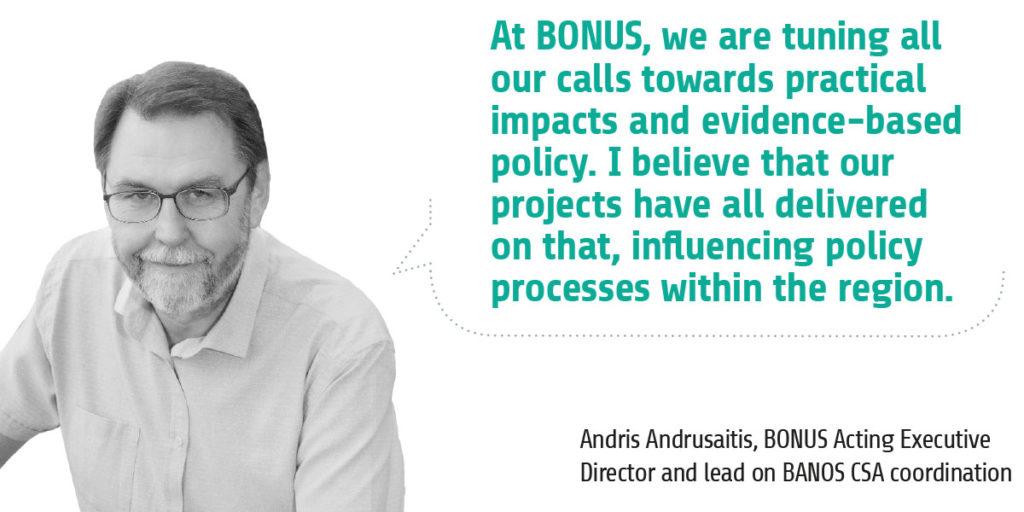 Q: BONUS is wrapping up: The good, the bad and the ugly – what are your reflections on achievements, challenges…

Andris Andrusaitis: Looking back, I am quite proud of BONUS' achievements, which has established itself as a transnational strategist and funder of research and innovation in the Baltic Sea region. With BONUS, we created a regional platform for synthesis of regional scientific knowledge and research that wouldn't be possible at a national level alone.
When we started, in the Baltic Sea region, the scientific sector was already consolidated. Scientists knew each other well and were widely working together. But what was missing was cooperation on the funding of research. Funding was a major challenge, and still is today. In total, BONUS has covered 19 themes with about 100 million euros of funding over the past 16 years. That might seem like a lot at first glance, but it really isn't.
On research funding, we need to get better at involving private capital. We haven't found a straight forward answer yet, but we eventually will need to address this issue. In general, we all would benefit from stronger linkages between academia and the private sector, not just for funding, but also for innovation and advancing science.
Establishing a well-functioning science funding organisation like BONUS takes time, as well as some trial and error. One really needs to be patient and in it for the long run. But with hindsight, we took all the right steps. Of course, we are now much cleverer than we were when we started with BONUS, which is good news for BANOS…
Speaking of: BANOS. Who, what, where, when, why!
Karoliina Koho: BANOS CSA – the consortium of the Baltic and North Sea Support and Coordination Action – will take BONUS a step further, namely towards the North Sea. Under what we like to call the "sister sea approach", BANOS CSA is preparing to launch a joint Baltic and North Sea research and innovation programme by 2021.
Despite both seas having different biochemical characteristics, with the Baltic Sea being a semi-enclosed brackish water body as opposed to a saltier and open North Sea, the similarities are numerous. Both seas are located in the same biogeographic region. Their waters are connected, leading to a natural migration of biota between them.
Then, there are the pressures that are similar for both, such as climate change, eutrophication, acidification, or oil spills. It therefore makes a lot of sense to jointly address the Baltic Sea and the North Sea when it comes to research.
With BANOS, we want to create a joint strategic research agenda across the North Sea and the Baltic Sea. Scoping tasks are already well underway, and so is the mapping of the national and transnational cooperation agenda and key priorities. Now, we are currently moving towards finalising the tasks within the drafting team.
The planned programme will strongly focus on sustainable blue growth, underpinning EU and national policies and strategies on that topic within the region.
All in all, BANOS CSA should lead to a well-funded platform for the new joint research funding programme to take off. And just like BONUS, the new platform will be an enabler for policy-science interaction in northern Europe.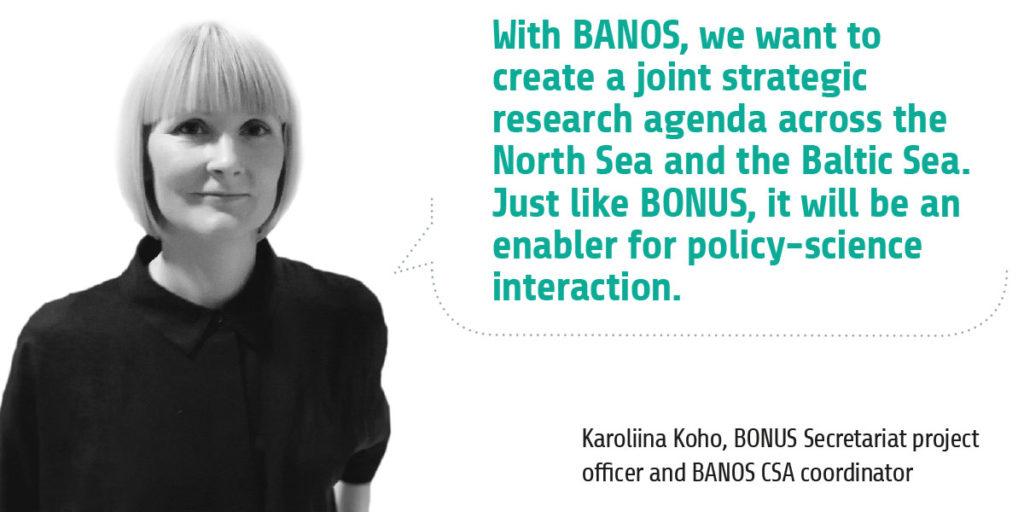 How can science be more relevant for policy making (and the other way around)?
Andris Andrusaitis: Policy-science interaction is paramount, as research and projects that we are funding need to have some sort of effect. At BONUS, we are tuning all our calls towards practical impacts and evidence-based policy. I believe that our projects have all delivered on that, with many BONUS projects influencing policy processes within the region.
A good example is the collaboration between BONUS and HELCOM, with the Joint BONUS-HELCOM Conference: Research and Innovation for Sustainabilityheld earlier in November 2018 or the presentation of BONUS projects at HELCOM's Annual Meeting in March 2019.
But policy-science interaction is not a one-way flow. There is also a top-down direction, where policy has to set its own agenda on science, research and innovation. Decision-makers need to express their own requirements for making better policies and taking informed decisions.
Even if policy is often running on short-term election cycles, we must not forget the long-term perspective on the mitigation of pressures. For instance, environmental challenges such as climate change or eutrophication might take decades if not centuries to be fully resolved. Science clearly has its role in building a long-term understanding on how to best address the current environmental challenges. Without science, the current pressures on the environment won't be resolved.
Do you have more examples of good interaction between policy and science?
Andris Andrusaitis: The Baltic Sea Action Plan (BSAP) is a prime example of good policy-science interaction. The BSAP spans over several years, over several election cycles, and has been developed with the long-term in mind. Even its current update allows to fathom in new challenges. The update offers an opportunity to adjust the measures and actions to be fit for purpose, and to incorporate the latest scientific findings.
The EU Strategy for the Baltic Sea Region (EUSBSR) is another good example of longer-term vision. It has a cross-sectoral and systemic approach to solving issues. It includes a variety of sectors and stakeholders, such as from maritime spatial planning, transport or fisheries. Working across and with all sectors involved in the marine environment will be a key to success. And so is working at the regional level, which we are now addressing with BANOS CSA.
Then, in our own house, it is worthwhile mentioning the BONUS COCOA project on coastal processes of biochemical transformation, that is looking into utilizing our coasts as natural filters to prevent nutrients and hazardous substances from entering the sea. BONUS COCOA had a substantial impact on environmental policies, such as the BSAP, by ensuring that management decisions are informed by science. It also triggered a strong engagement in policy discussions on geoengineering approaches to mitigate coastal hypoxia.
Another good example is the BONUS BAMBI project on genetics and biodiversity. The project collects evidence on the capacity of species to adapt, notably to climate change. But what is interesting in BAMBI is that the project also includes a social science researcher, to ensure higher relevance for the policy sector and maximise concrete usability of the findings.
Baltic Sea/Seas of Norden: what will be the hot topics in the years to come?
Andris Andrusaitis: In our line of work, we foresee a major interest on advancing the Strategic Research and Innovation Agenda (SRIA), with the thematic priorities on healthy seas, sustainable blue economy, and human well-being. The question is: what should we know to get there? What are the knowledge needs? The answers to this will surely guide the future research agenda in the Baltic and North Sea region. To connect these priorities, the ecosystem-based approach will highly feature on our agenda. Here, the considerations will be on how to connect us humans to the sea, for us to take advantage of its resources without disrupting its ecological balance.
Also, we need to refocus on sustainability. As much as we have been talking about sustainable blue growth, there is a risk that "sustainable" part could be largely forgotten. Furthermore, we also need to address multi-stressor and cumulative impacts stemming from the combination of pressures such as excessive nutrient inputs, hazardous substances and climate change.
Currently, the centre of attention is on plastic pollution, which is good, but not necessarily the most pressing issue. On the other hand, if we manage to solve plastic pollution, we can start to look into more complex issues such as impacts of climate change, eutrophication and acidification. These really are the crucial questions, which will require massive efforts on modelling and projection, for us to understand the underlying mechanisms and develop solutions. Our focus should clearly be there.