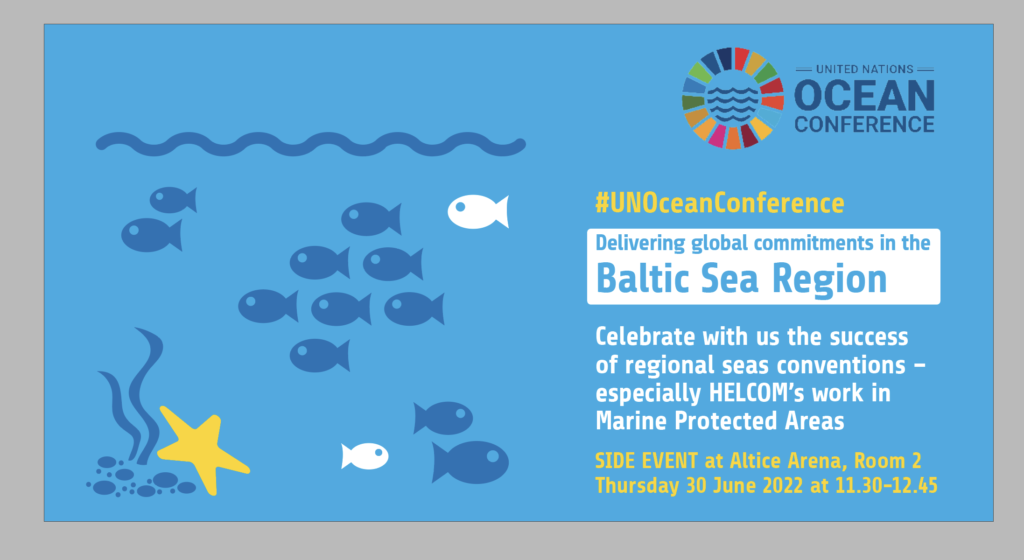 The success of the Baltic Sea region in nominating Marine Protected Areas (MPAs) and the emerging plans regarding Other Effective Conservation Measures (OECMs) will be in key focus in a side event on 30 June 2022, taking place during the UN Ocean Conference in Lisbon, Portugal.
The aim is to present marine protection as a concrete example of the instrumental role of the regional sea conventions in implementing Sustainable Development Goal 14 – Life under water – in particular and other global commitments in general, at the macro-regional and sea-basin levels.
The side event will present HELCOM's Baltic Sea Action Plan (BSAP) 2021–2030 as a best practice example for an ecosystem-based approach to marine management from science to action. The BSAP provides concrete tools for reaching the regional commitments, such as the establishment of a coherent MPA network, and the "30/10 target" referring to the expansion aim of the MPA coverage to 30 % of the Baltic Sea, with one third being strictly protected. The latter has a straight link to processes under Convention on Biological Diversity as well as the EU Biodiversity Strategy.
In addition to MPAs, the event focuses on the areas that are achieving the effective in-situ conservation of biodiversity outside of protected areas, so called Other Effective Conservation Measures (OECMs), as referred to in Aichi Target 11 of the Convention on Biodiversity (CBD).
Main organizers of the event are the Ministries of the Environment of Estonia and Germany (HELCOM Chair).
UN Ocean Conference, postponed due to the covid pandemic, will be held in Lisbon, Portugal. from 27 June until 1 July, 2022.
Please find here more information about the event and stay tuned for updates.