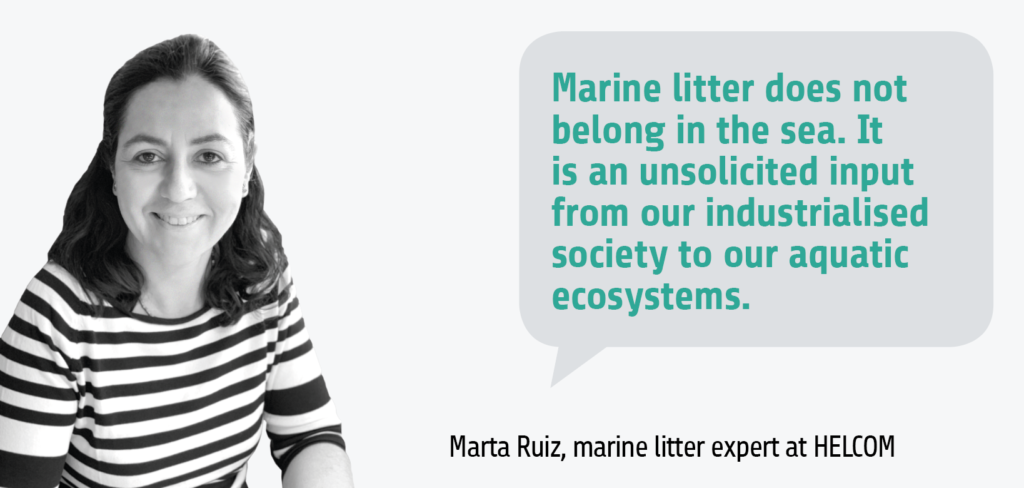 Why is marine litter of concern?
Marine litter can be found everywhere, even in the world's most remote places. It does not belong there. It is an unsolicited input from our industrialised society and consumerism to our aquatic ecosystems. We may not have all the data yet on marine litter and its effects on our seas – not to mention microplastics – but we do know that it is not all that good. Many statements are currently gripping attention, such as that there will be more plastic than fish in our seas by 2050. Personally, I do not know how accurate this figure is. But what if it is true, or only partially true? What we know for sure is that marine litter affects biota: mammals and turtles get entangled in derelict fishing gear, fish eat microplastics, turtles mistake plastic bags with jellyfish and eat them, litter items transfer non-indigenous species and chemicals, and the seabed gets smothered by mounts of trash causing disturbance to the marine habitat. It also affects our health, for instance when we go to a beach and not only find sand there but cigarette butts or sanitary waste. And: litter can also be the cause of accidents at sea.
What about microlitter, how bad is the situation, and what do we currently know about it?
Researchers are working hard to fill the knowledge gaps on microlitter and microplastics, such as looking for a harmonized methodology to sample them in different matrixes. Which method is more representative and provides results with less error? Should we analyse water, sediment, biota, or both? Microplastics are not simple to analyse. It can take up to three weeks to examine a water sample in a laboratory, not to mention the required investment in laboratory equipment. In the meantime, while researchers do their work, we should use the knowledge that we already have. We can adjust our consumption patterns, for instance avoiding personal care products that contain microplastics such as certain tooth pastes or facing scrubbers, or avoid abrasive blasting. We should also minimise the use of single use plastic items, since they are a source of so-called secondary microplastics once decomposing in the environment. What is the general situation in the Baltic in regards to microplastics?In the Baltic Sea, when it comes to microplastics, we are still at the early stage. We have just started to gather supporting data. The recently concluded contains a descriptive section on marine litter, a first for this kind for the Baltic Sea. What we know today is in relation to marine litter in general. But since plastics are the main component of litter – accounting to over 70% of the beach litter – and bearing in mind that part of the microlitter are secondary microplastics originating from the decomposition of larger plastic items, we can expect similar findings on microlitter.
What are the HELCOM actions on marine litter in general?
Currently, the HELCOM Regional Action Plan on Marine Litter addresses what we thought, in 2015, to be the most relevant sources of input of marine litter: waste management including sanitary waste, plastic bags, microplastics, as well as abandoned, lost or otherwise discarded fishing gear (ALDFG), historic landfills closed to coastal areas, expanded polystyrene (EPS), bottles and containers, and waste related to fishing and aquaculture. Last but not least, the plan also includes actions on education and outreach. On microplastics, the plan identifies several actions, notably on stormwater management and removal of micro particles in waste water treatment plants. HELCOM recently also joined an EU-financed Interreg project on microplastics, FanpLesstic-sea. The project will tell us more about microplastic in the region: what is its composition, and where does it come from, through which pathways does it enter the Baltic. Also, the project will show us if technology can help to minimise the amount of microplastics that enter the sea, for instance through wastewater treatment plants.
What are the expected outcomes of the FanpLESStic-sea project?
The FanpLesstic-sea project is quite ambitious, but, at the same time, quite realistic. It has managed to mobilize experts who know how to monitor microplastics and model their pathways, as well as experts from the wastewater treatment sector with hands on experience on eliminating microplastics from their effluents. HELCOM, for its part, will provide its regional perspective on the topic, sharing already gained and on-going experience through the implementation of the Regional Action Plan on Marine Litter and translating the outputs of the project to policy messages to be shared with the HELCOM countries. Specifically, the main outputs of the project will be to map microplastic pathways, understand new technology for microplastics removal, and defining frameworks that will enable cost-efficient and implementable measures.
What else is HELCOM doing in regards to microplastics?
HELCOM is currently working on an indicator on microlitter in the water column. Although there is currently no coordinated monitoring of microlitter in the region, some national monitoring programmes in certain Baltic Sea countries already address microlitter in the surface water or sediments, or both. It is now up to HELCOM to propose a harmonized method for monitoring microliter in the water column at the regional level. In any case, the foundation for durable solutions on microplastics has already been laid with the Regional Action Plan on Marine Litter, where the HELCOM countries committed to address the Baltic Sea's marine litter problem – including microplastics.