International partners practice at sea and on the shore
The Bay of Mecklenburg and the beach of Warnemünde are the scene of the largest oil spill-response exercise in the Baltic Sea, BALEX, from 22nd until the 25th of August 2022. During this international exercise, multi-discipline specialists and crew members from countries in the Baltic Sea region train their skills on combating widespread oil spills. As the Baltic Sea is one of the most vulnerable sea areas in the world, it is crucial to prepare for the worst.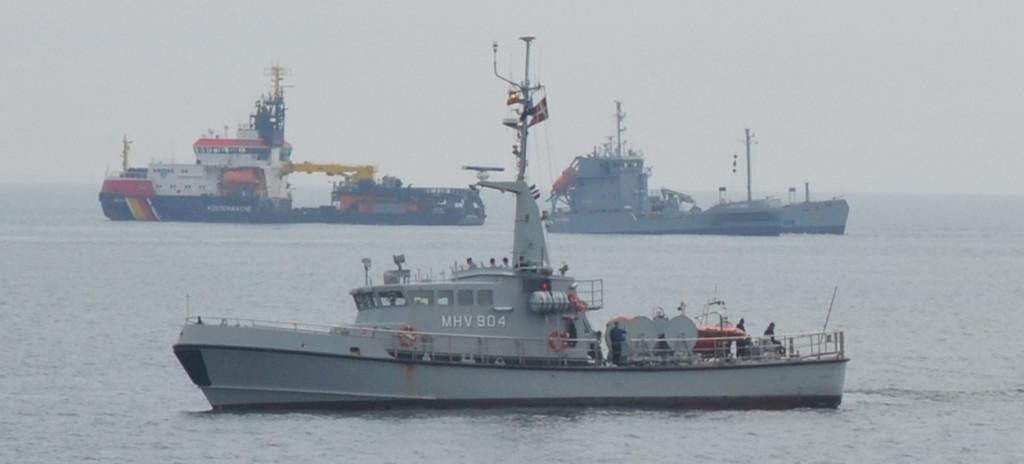 The organizing of BALEX exercises rotates annually between all bordering states of the Baltic Sea. This year Germany is the host country. Central Command for Maritime Emergencies in Cuxhaven, responsible party for national maritime emergencies, leads the exercise.
About 400 specialists from different countries and 17 vessels are involved in the exercise, supported by helicopters and the German surveillance airplane "DO-228".
The regional cooperation has long roots. This year, international units consist of diverse organizations from Denmark, Estonia, Finland, Latvia, Lithuania, Poland and Sweden as well as the European Safety Agency (EMSA).
At the German side, the Navy, Federal Police, the Water and Shipping Directorate, five fire departments as well as the Central Command for Maritime Emergencies join forces.
The exercise plan is multi-sectional and spreads over four days. Main components are a Hazardous and Noxious Substances (HNS) scenario in vicinity of the Kadet trench, between Germany and Denmark (23 August) and an oil spill event that demands counter pollution in Mecklenburg bay.
The exercise is crucial in improving the communication and the series of operations between the involved units of all participating organizations and international attendees. The BALEX DELTA drill is sometimes topped with onshore response, like this year, and it has elements of other exercises such BALEX ALPHA (table-top), BALEX BRAVO (alarm), BALEX CHARLIE (functional), etc.
What is BALEX DELTA
Held every year since 1989, the HELCOM BALEX DELTA is an annual operational exercise designed to test the readiness for responding to pollution incidents such as oil spills or chemical leakages from shipping accidents in the Baltic Sea. It checks our alarm procedures, the know-how and operational capability for responding to spills, and the cooperation between the Baltic Sea countries.
Contact
Benedikt Spangardt
Public Relations
Central Command for Maritime Emergencies
presse-hk@havariekommando.de
+49 30 185420 2450
Johanna Laurila
Communications Advisor, HELCOM
johanna.laurila@helcom.fi
+358 40 647 3996